Fibre and Herb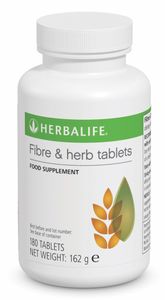 Typical Western diets are low in fibre. The average adult consumption of fibre is typically around 17g per day in Europe, and yet governments recommend a daily intake of 24 to 30g.
Fibre and Herb contains oat fibre, to give your daily fibre intake a boost, along with parsley, orange blossom, hibiscus flower and fennel seed powder.
Details
Fibre and Herb is sold in pots of 180 tablets and is designed for two tablets to be taken three times a day with meals. Taken properly a pot will last for 30 days.
Product accessories

Shaker Starter Kit
A starter kit for Herbalife programmes including a shaker, tape measure, tablet box and measuring spoon.
Related products

Formula 1 Shake Nutritional Meal-Replacement Shake
A healthy and delicious soy-protein based shake, with added vitamins and minerals. Available in eight flavours.

Formula 2 Vitamin & Mineral Complex
Formula 2 Vitamin & Mineral Complex is your easy route to 24 nutrients to support what your body needs.